January 31, 2022 12:52 pm
---
If you're a homeowner in the UK, then you know that keeping your gutters clean is essential to prevent water damage to your home. But how often should you get them cleaned? And should you hire a professional to do the job? In this blog post, we will answer those questions and more.
When Should I Clean My Gutters?
First of all, it's important to note that the frequency with which you should get your gutters cleaned depends on several factors, including the type of gutter system you have, the amount of foliage around your home, and the climate where you live.
So, how often should you get your gutters cleaned in the UK? The general rule of thumb is to clean your gutters annually – either at the beginning of spring or after autumn. This is because leaves and other debris (such as twigs, branches, and moss) can accumulate in your gutters during the autumn and winter months, which can cause clogs and lead to water damage.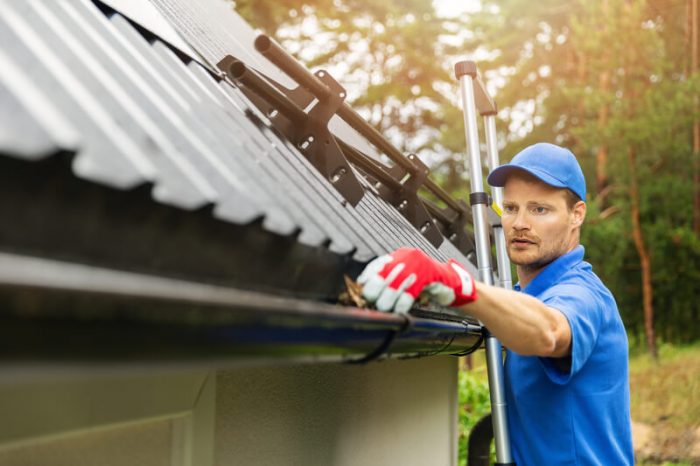 Although, as mentioned, if you live in a particularly rainy or windy area, and/or are surrounded by a lot of trees, then you may need to clean your gutters more often than once a year. It's recommended that you wait for the leaves to have fallen, and then call in a professional to clean your gutters for you. This is because gutter cleaning can be a dangerous job, so it's not recommended that you try to do it yourself.
There are many benefits to hiring professionals to clean your gutters, including:
They have the proper equipment to get the job done safely and effectively.
They know how to identify and fix any potential problems with your gutters.
They have all the necessary materials to replace badly damaged gutters.
They will clean out all of the debris, leaves, twigs, etc. from your gutters so that they are functioning properly.
They can provide you with advice on how to keep your gutters clean year-round.
They will save you a lot of time and effort.
When deciding on the best time to have your gutters cleaned, you should also think about the weather conditions and how accessible your gutters are. If it's frosty or snowing, it will be more difficult and dangerous to clean your gutters. Icy gutters can be very difficult to clean properly, so it's usually best to wait until the weather has improved.
If you cannot wait to have your gutters cleared, then Gutter Maintenance can still help! We have extensive experience in cleaning gutters in the winter and can tackle even the most difficult gutter cleaning tasks. We're Oxford's number 1 gutter cleaning company and we're here to help! From gutter repairs to cleaning services, we can take care of it all!
So if you're looking for a reliable, professional gutter cleaning service in the UK, then contact Gutter Maintenance today. You can also browse our website for more information on our services, or give us a call. We would be happy to answer any questions you have!